New guide promotes wetland best management practices in forest-sector operations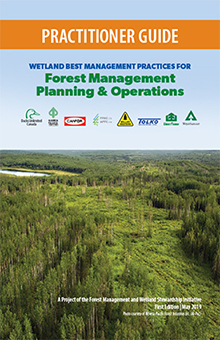 June 12, 2019
---
Edmonton, AB: The Forest Management and Wetland Stewardship Initiative (FMWSI) is pleased to announce the launch of the Wetland Best Management Practices for Forest Management Planning and Operations plain-language Practitioner Guide, a plain-language tool to assist forest practitioners in applying wetland best-management practices (BMPs) to planning and operations activities in the boreal forest.  It was developed by FMWSI, a collaborative partnership between Ducks Unlimited Canada (DUC) and seven forest sector organizations.
About the project
The Practitioner Guide, which was developed under FMWSI's Planning and Operations project, provides forest practitioners with access to BMPs that promote wetland stewardship in the context of forest management planning and operations. The guide builds off the Guiding Principles for Wetland Stewardship and Forest Management (FMWSI 2018) and offers science-based planning and operating practices that can be applied to meet broader wetland stewardship objectives.
"This easy to use field guide is a great resource for the forest industry and provides wetland planning and operating practices for access roads, forest harvest, forest renewal, and more. With extensive wetlands in many of the areas we work, applying wetland best management practices can help avoid and minimize adverse effects to wetlands and promote wetland stewardship within our forestry operations." 
– Allan Bell, Woodlands Manager, Tolko Industries Ltd.
About the guide
The plain-language Practitioner Guide covers a range of planning and operational practices, from building wetland crossings, to harvesting timber and renewing forests. Some of the topics addressed include:
Wetland training, soil conservation, invasive species management, recreational access, and spills;
Wetland and riparian area identification and avoidance;
Access planning, design, and construction;
Forest harvest planning and operations, including harvesting wetland transition zones, treed wetlands, areas adjacent to wetlands, and other water features;
Forest renewal planning and operations;
And more…
In an effort to encourage widespread use by forest practitioners, , the Practitioner Guide has been made available for free download. Hardcopies will be available to order at a cost at a later date.
Quick Facts
The FMWSI aims to work collaboratively toward common goals by sharing knowledge and resources among partners.
Wetland BMPs represent the best current knowledge and methods that can be applied to avoid or minimize adverse effects to wetlands. BMPs described in this guide specifically target forest practitioners working in Canada's boreal forest.
About Ducks Unlimited Canada: Ducks Unlimited Canada (DUC) is the leader in wetland conservation. A registered charity, DUC partners with government, Indigenous Peoples, and industry to develop comprehensive solutions to conserve wetlands that are critical to waterfowl, wildlife and the environment.
About the FMWSI: The FMWSI is a partnership between  Alberta-Pacific Forest Industries Inc., Canfor, the Forest Products Association of Canada (FPAC), Ducks Unlimited Canada (DUC), Millar Western Forest Products Ltd., Tolko Industries Ltd., West Fraser, and Weyerhaeuser Company to advance wetland stewardship in the boreal forest through sustainable forest management.
CONTACT INFORMATION
Kylie McLeod
Conservation Programs Specialist, BMP Program
Ducks Unlimited Canada
(780) 930-1273
K_mcleod@ducks.ca
Franco Alo
Communications Specialist
Ducks Unlimited Canada
(780) 930-1269
F_alo@ducks.ca