Bringing Together Traditional Knowledge and Science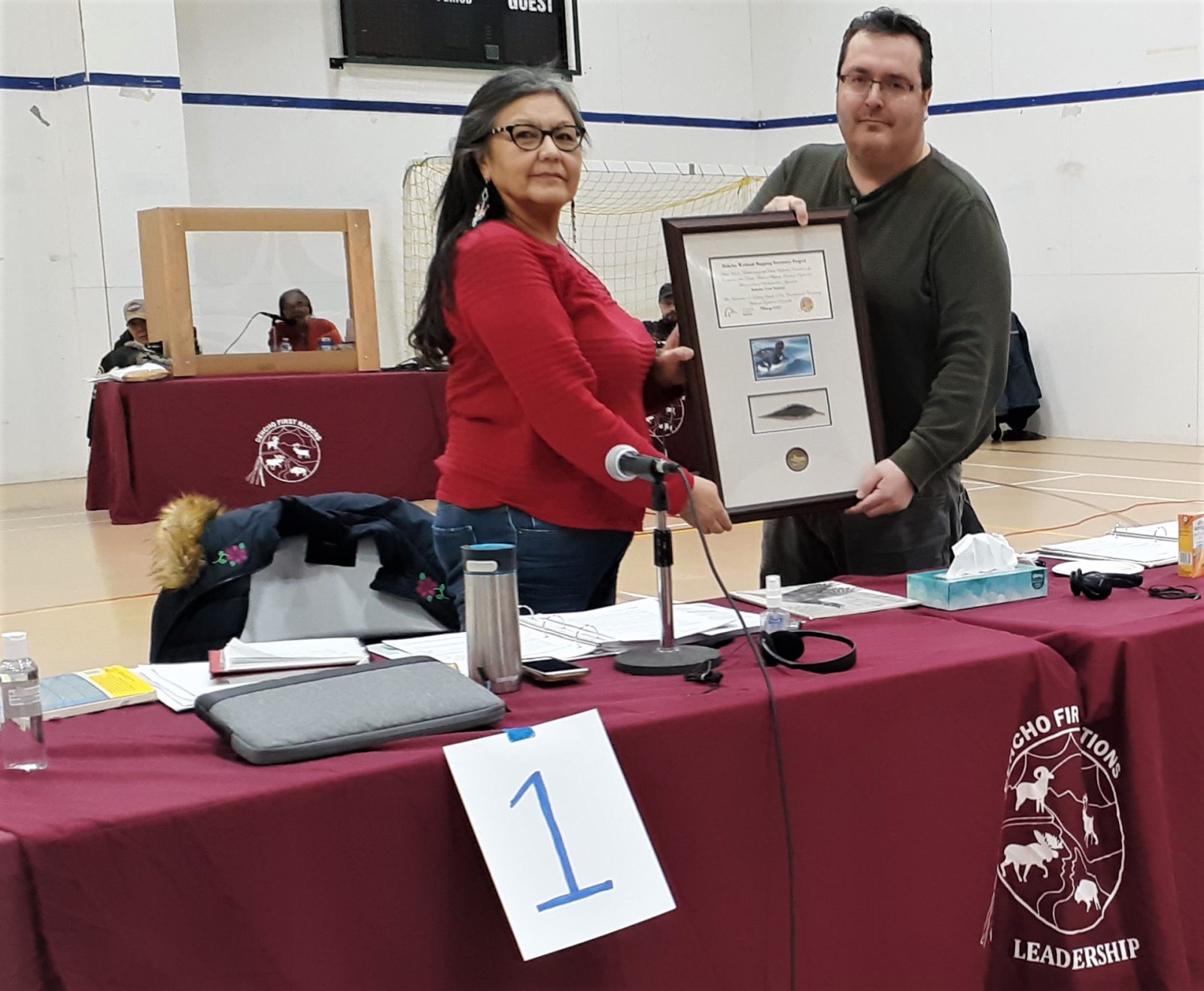 Above: (Left to right) Dehcho First Nations Grand Chief Gladys Norwegian, Barrett Lenoir (DUC). Photo credit: Josh Campbell (DFN).

The Dehcho First Nations and DUC commit to collaborate on conservation
February 12, 2021.
---
Łı́ı́dlı̨ı̨ Kų́ę́ (Fort Simpson), NWT: On February 5, 2021, the Dehcho First Nations (DFN) and Ducks Unlimited Canada (DUC) signed a landmark Memorandum of Understanding (MOU) to signify the completion of the Dehcho Wetland Inventory Mapping Project and the agreement to work together in partnership on future conservation initiatives related to the Dehcho First Nations.
"Our Elders are warning us about rapid changes across our land. We need the best information to ensure the safety of our people. This Wetland Map Inventory is another example of combining Indigenous Traditional Knowledge and science," said Dehcho First Nations Grand Chief Norwegian.
"This MOU is another key partnership and tool for our communities, and our continuous adaptation to climate change that we are living and seeing across Dehcho Ndehe'," added Grand Chief Norwegian
Kevin Smith, DUC's national manager of boreal programs, knows that DUC and the DFN share many common values around water and wetlands. "Working together within an ethical space has enhanced the knowledge gathering and sharing process," says Smith. "This MOU is an important step in our continued relationship with the DFN and will be instrumental in forging a conservation pathway together in the spirit and practice of reconciliation. Mahsi Cho to the DFN for continuing to advance our collective goals and shared values around wetland conservation, so that these important areas are available for future generations."
DUC delivered the completed Dehcho wetland inventory map to Dehcho leaders during their recent leadership meeting. The detailed map captures important wetland and vegetation data. It allows users to visualize wetland boundaries and helps provide further information for special areas such as flow characteristics, biodiversity, and carbon density and capture. "By combining traditional and scientific knowledge systems, we can make more responsible choices that factor in the impact of decisions made today for future generations," says Barrett Lenoir, DUC's manager for Northwest Territories.
---
Ducks Unlimited Canada (DUC) is the leader in wetland conservation. A registered charity, DUC partners with government, Indigenous peoples, industry, non-profit organizations and landowners to conserve wetlands that are critical to waterfowl, wildlife and the environment. ducks.ca
The Dehcho First Nations is an Indigenous Government representing the Dehcho Dene and Métis people of the Dehcho Region of the Northwest Territories, Canada. It is made up of seven First Nation and two Métis governments. dehcho.org
Contact
Barrett Lenoir, Manager, NWT
Ducks Unlimited Canada
b_lenoir@ducks.ca
867-873-6744
Raina Mithrush, Communications Specialist
Ducks Unlimited Canada
r_mithrush@ducks.ca
780-930-1269
Josh Campbell, Communications Coordinator
Dehcho First Nations
Josh_campbell@dehcho.org
867-695-1556