Paper Excellence Makes Historic Donation of $150,000 to Ducks Unlimited Canada to Support Wetlands Stewardship and Education in Canada's Boreal Forest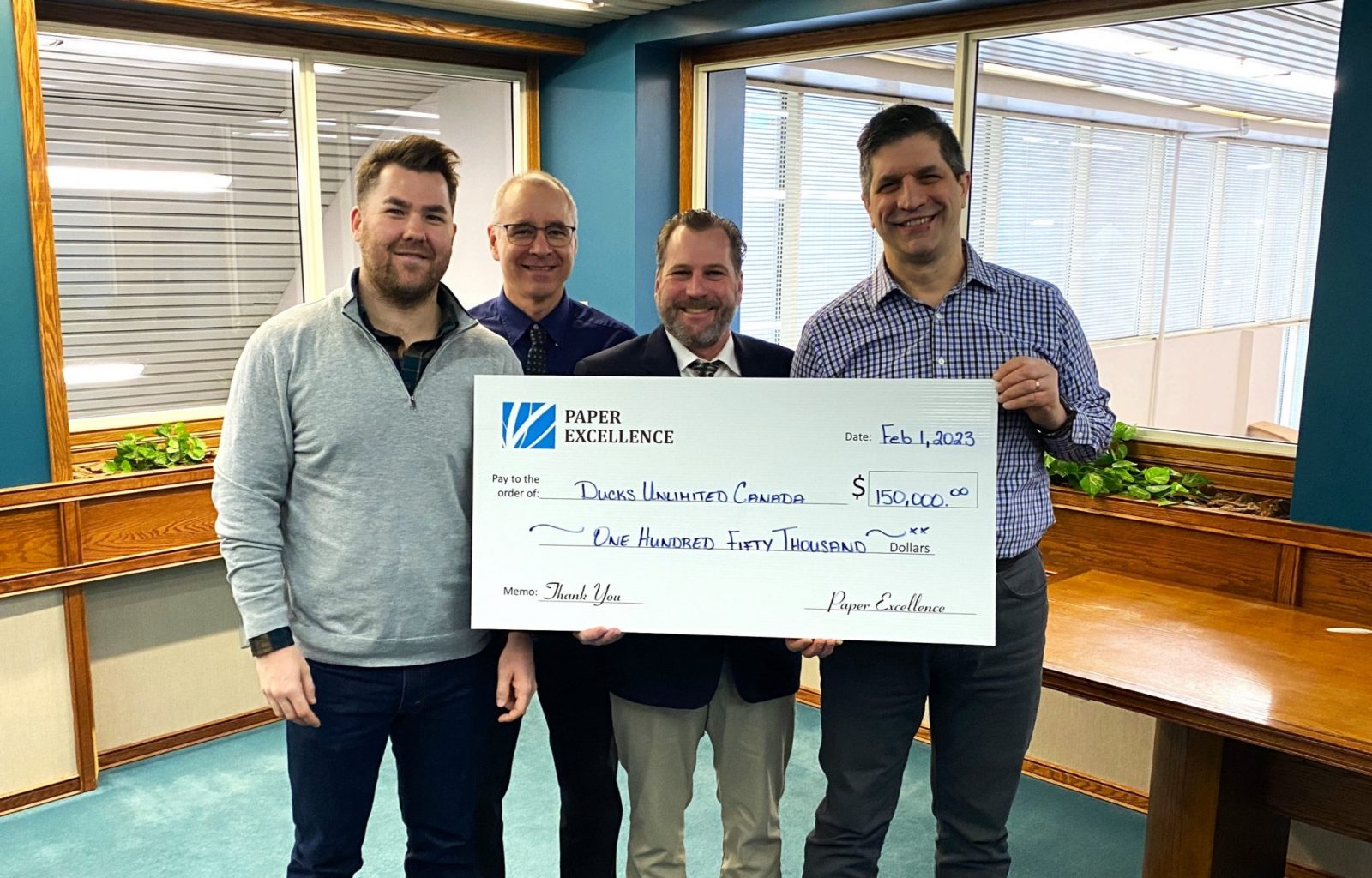 Paper Excellence Makes Historic Donation of $150,000 to Ducks Unlimited Canada to Support Wetlands Stewardship and Education in Canada's Boreal Forest  
Prince Albert, SK – Today on World Wetlands Day, Paper Excellence Canada announced it has donated $150,000 to Ducks Unlimited Canada (DUC). The largest single donation in Paper Excellence Canada's history will support wetlands conservation and stewardship in boreal forest regions of Saskatchewan and British Columbia. The donation will also support wetlands training for residents and employees in industries that operate or work in the boreal forest regions of the two provinces. 
"On behalf of Paper Excellence Canada, I am thrilled to present this donation to Ducks Unlimited Canada and begin this exciting investment in supporting wetlands stewardship and education," said Carlo Dal Monte, Vice President for Paper Excellence Canada. "Paper Excellence Canada is committed to conservation and sustainability in the regions where we operate, and working with Ducks Unlimited Canada on this initiative is another example of our company's ongoing work." 
 "Our work cannot be completed without the support of organizations like Paper Excellence Canada, and this generous and significant donation allows us to enhance our wetland and waterfowl conservation efforts through knowledge sharing in the boreal forest of Saskatchewan and British Columbia" says Kevin Smith, National Manager of Boreal Programs for Ducks Unlimited Canada.
Knowledge sharing is a core value for DUC's National Boreal Program who will manage the donation. "Equipping those who live and work in the boreal with knowledge about what wetlands are, how to operate in and near them, and the values that they hold for wildlife and people is an excellent way to motivate actions that lead to conservation and sustainable use." Smith says. Ducks Unlimited Canada has already developed educational tools and programs to support this knowledge sharing, and these new funds will facilitate training to be shared to a wider audience. 
Paper Excellence Canada is committed to conservation in the areas and regions where it operates. Last year, Paper Excellence Canada donated $50,000 to Pacific Salmon Foundation to support regeneration and recovery of wild Pacific salmon in communities in British Columbia and will be supporting Pacific Salmon Foundation again this year. The company is also certified by the Forestry Stewardship Council (FSC), an important designation in the chain of custody for manufacturing forestry products. 
-30- 
Paper Excellence Canada, headquartered in British Columbia, is a diversified manufacturer of pulp and specialty, printing, writing, and packaging papers. The company operates seven mills and a large-scale cargo distribution centre in Canada producing and shipping over 2.5 million tonnes annually with a workforce of more than 2,230. Paper Excellence is poised to continue to grow with its strategy of operational excellence and high-quality, cost-effective products. 
Ducks Unlimited Canada (DUC) is the leader in wetland conservation. A registered charity, DUC uses sound science and partners with government, industry, non-profit organizations, Indigenous Peoples and landowners to conserve wetlands that are critical to waterfowl, wildlife and the environment.  
Media Contacts:
Graham Kissack, VP, EHS and Corporate Communications 
Mobile: (250) 732-7991 
Chantelle Abma, Communications Specialist, National Boreal Program of Ducks Unlimited Canada 
Mobile: (780) 265-4945 
In image, Left to right, Dale Richardson, Public Affairs Manager, Paper Excellence, Mark Kornder, Conservation Programs Specialist, Ducks Unlimited Canada, Travis Behning, Manager of Volunteer and Corporate Fundraising, DUC, Carlo Dal Monte, VP for Paper Excellence Canada. Photo taken at Paper Excellence Prince Albert Mill Office.