New Alberta-based field guide wins provincial award for excellence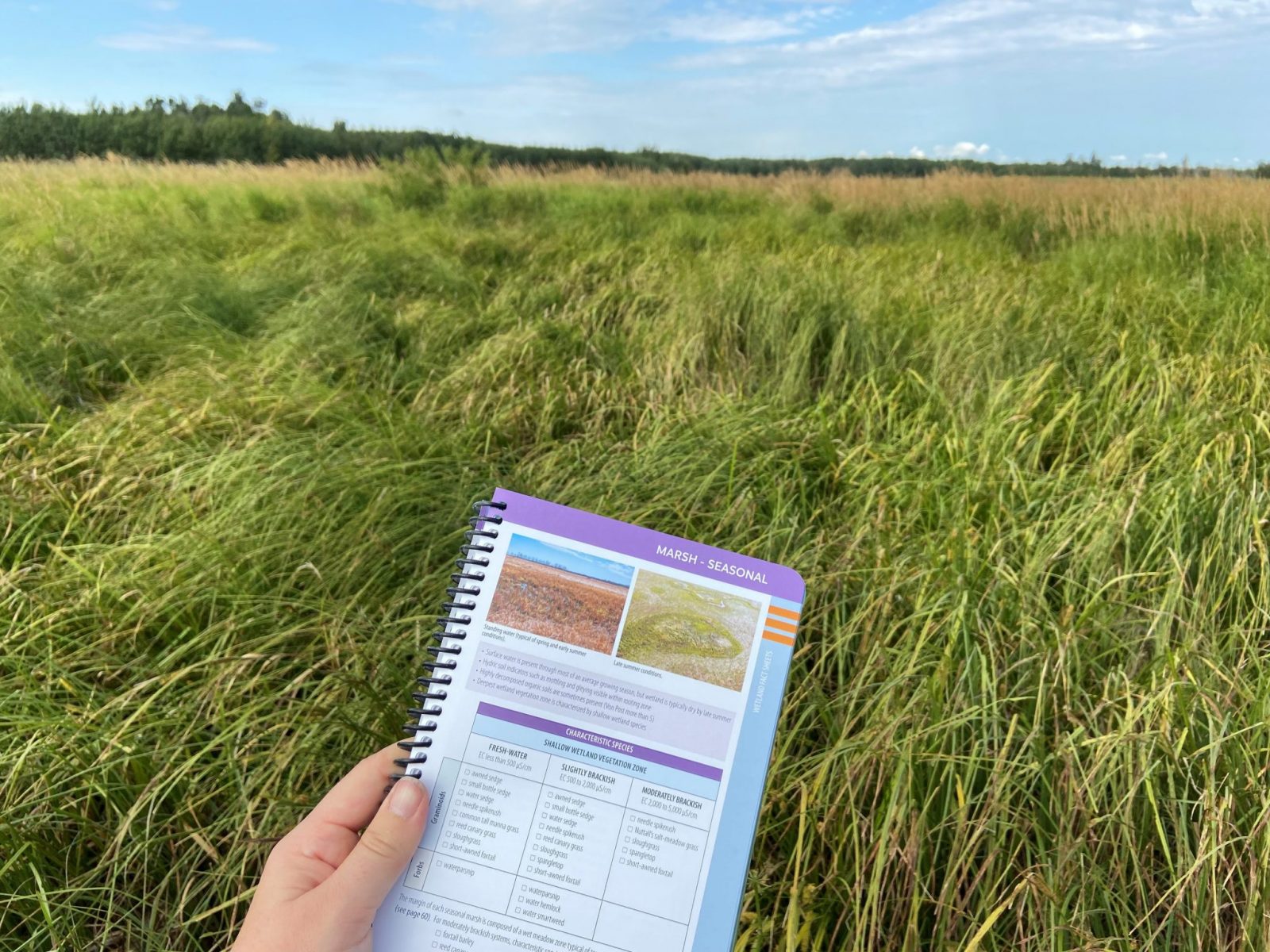 December 13, 2021 – Edmonton, Alta. – Ducks Unlimited Canada (DUC) and the National Boreal Program are proud to announce that the Alberta Wetland Classification System Field Guide has won the 2021 Peggy Thompson Publication Award. The guide is the result of a 2.5-year project to create a handbook with the goal of distilling large amounts of scientific data into an easy-to-read format that is portable enough for users to take with them in the field.   
The 150-page image-filled guide is intended to be used by anyone with an interest in wetlands, and by those whose decisions on land-use impact wetlands and their functions. Kristyn Mayner, the DUC Wetland Stewardship Specialist who led the development of the field guide explains; "Prior to the release of this Field Guide, there were not visually engaging, accessible wetland classification resources that aligned with the Alberta Wetland Classification System. This field guide provides wetland information clearly and logically with detailed fact sheets, over 250 images and illustrations of wetlands, listings for the 80 most common wetland plant species and a vegetation-based classification decision key." 
Mayner explains that knowledge is the key to good decision making for these valuable ecosystems; "Wetland identification and classification is a necessary first step in avoiding or minimizing potential impacts to wetlands when working on the landscape, and the diversity of wetland types in Alberta means that these systems were often challenging to identify." Prior to the creation of this field guide, Albertans who were interested in learning about wetlands would be referred to the highly technical, text-based, 66-page Alberta Wetland Classification System document, which was not practical for use in real-world identification.  
Alberta land owners and land users who are not sure if they have wetlands on their property can use the guide to direct their future choices – a crucial decision as the value and sensitivity of wetlands becomes increasingly apparent; wetlands offer protection from flood and drought events such as the unprecedented drought of 2021, as well as storing large quantities of carbon in their soils as peat, which helps to mitigate further impacts of climate change. This is in addition to the benefits wetlands offer for waterfowl, biodiversity, and a range of other interests.  
The 2021 Peggy Thompson Publication award was presented in early December by the Alberta Society of Professional Biologists to Mayner, and Conservation Program Specialists Leanne Mingo, and Catherine Brown of DUC's National Boreal Program. The award is presented annually to recognize high standards of achievement in publishing biological information conveying an understanding of the concepts and application of biological sciences.  
You can download the Alberta Wetland Classification System Field Guide for free or purchase a hardcopy here. DUC also offers custom training events for groups interested in learning more about wetland classification in Alberta.  
– 30 – 
 
Ducks Unlimited Canada (DUC) is the leader in wetland conservation. A registered charity, DUC partners with government, industry, non-profit organizations, Indigenous Peoples and landowners to conserve wetlands that are critical to waterfowl, wildlife and the environment. To learn more about DUC's innovative environmental solutions and services.
---
Follow @DUCboreal on Instagram, Facebook, and Twitter.
For all inquiries, contact:
Chantelle Abma
Communications Specialist
Ducks Unlimited Canada
c_abma@ducks.ca